"Piazza Unione Montana Acquacheta" - a lively square in Hofbieber.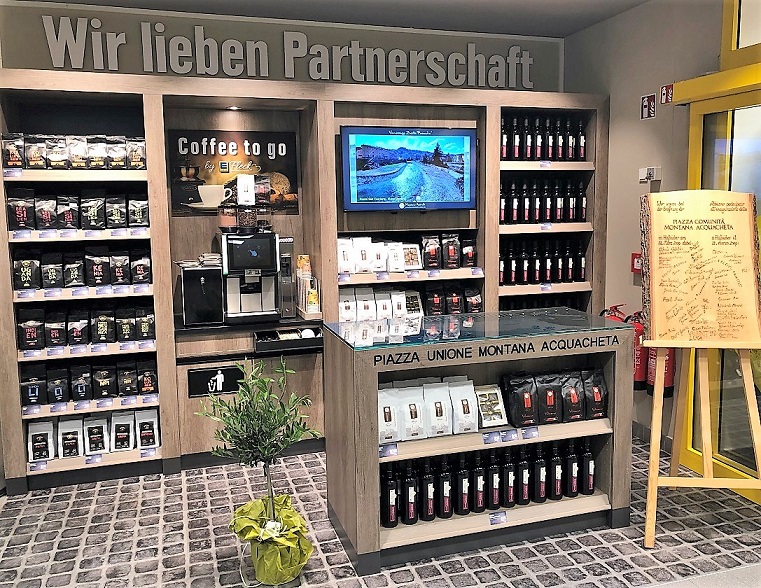 At the Piazza you will find information about Modigliana, Tredozio, Dovadola, Rocca San Casciano, Portico and San Benedetto. A screen provides direct information on current topics and events concerning the partnership between the municipality of Hofbieber and the Unione Montana Acquacheta in Emilia Romagna.
For the love of partnership - lively and modern - this is how the new Piazza at the EDEKA market in Hofbieber, Morleser Straße 11, presents itself. Owner André Fleck and Freundeskreis Italian opened the Piazza Unione Montana Acquacheta together with guests from the Italian partner region on 19 May 2019. A meeting place has been created in the entrance area that offers up-to-date information and invites visitors to linger.
Since 2009, it has been possible to buy the official partnership wine "Vino del gemellaggio" from André Fleck at the EDEKA market in Hofbieber. The full-bodied wine, which is bottled exclusively for the partnership at Cantine Intesa in Modigliana, has long since become a unifying product. Many people give themselves this extraordinary gift on special occasions, on the one hand to say thank you but also because it is a tangible connection of our friendship. By the way, the Sangiovese wine tastes great - not only for us in Hofbieber.
Here you will also find our two partner coffees. Castello an elegant, harmonious Cafe Crema and Vulcano a powerful, intense espresso. Since 2019, the coffee has been roasted especially for us in cooperation with the coffee roasting company COPPA DORÒ from Wanfried. In our Piazza, we bring Italian coffee enjoyment to the Rhön in a harmonious way...our Italian friends like the coffee too.
The best thing is to come and see for yourself, maybe we can inspire you with our delights for the Italian partnership!
When it comes to Italy... there's always something going on with us!