Great success for the German-Italian cookbook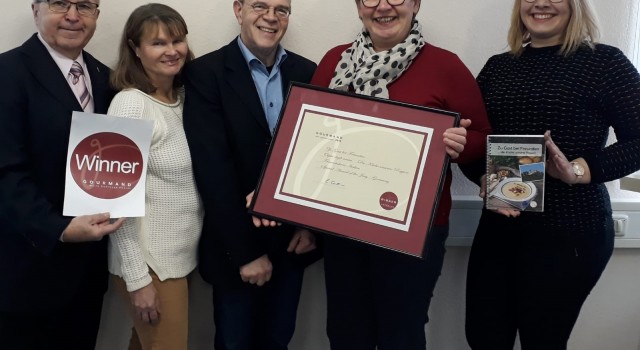 The actors were astonished ... the bilingual book received international awards.
The design of the book with regional recipes from Emilia Romagna and the local Rhön was done in cooperation with Italian friends from the partner region. It was presented to the public for the first time at the Romagna table of pleasure celebration on 8 July 2018 in front of the community centre in Hofbieber.
Mrs. Tiziana Deidda from Frankfurt am Main had encouraged the board of the Freundeskreis Italien to register the cookbook at the International Gourmand Competition. The suggestion was then taken up and at the end of October 2018 the book was on its way to the Gourmand International competition in France with a registration form. The cookbook was accepted by the jury in the category "A-Authors A 06 Special Awards". This category is not subject to any further competition among each other, but is directly evaluated and awarded (or not) by the jury. With the cookbook "Zu Gast bei Freunden - Ospiti degli amici ... the cuisine of our region" the author: Freundeskreis Italien e.V. was awarded the "Gourmand Awards 2019 Special Awards" for the country of Germany.
The Gourmand World Cookbook Award is a prize that honours the best cookery and beverage books and all publications of any kind on the culture of eating and drinking in different categories. It is the only and largest competition in the world. There is no comparable international cultural event in the world apart from the Olympic Games. The prize was founded in 1995 by Edouard Cointreau (Cointreau liqueurs). Since then, the prize has been awarded annually at different venues, Paris, London, Frankfurt, Beijing, Yantai, Kuala Lumpur. Already in 2009, more than 8000 publications were submitted and prizes were awarded in more than 40 categories. This year, 215 countries participated with contributions, 134 of which are among the finalists in 130 different categories.
An international jury will divide the books into award categories. The objective of the award is to promote "good cuisine" of all nations, international understanding and thus also to achieve a greater awareness of good, varied and healthy food and drink worldwide. The prize (all prizes) is not monetary, but the winners/finalists have the right to use the red winner logo of the Gourmand Awards for their promotion.
Mayor Markus Röder and the board of the Freundeskreis Italien e.V. are particularly pleased about the great award.
The goal of the twinning, namely the promotion of international understanding, was rewarded by this special award.
The German-Italian cookery book is available at the Tourist Information of the community of Hofbieber, in the village shop Hofbieber, in the regional shop on the Wasserkuppe and in the Kleinsassen art station at a price of 12.50 €.
Many thanks to all those involved in the design and implementation:
Aloisia Kothe-Eisel, Alexandra Bleuel, Cristina Scholz, Daniela Bergmann, Eugen Remmert, Florian Wehner, Giorgio Maretti, Georg Ander-Molnár, Giuseppe Mercatali, Gerda Michelsons, Kerstin Busold, Martin Herbst, Mark Weinmeister, Markus Röder Massimo Assirelli, Matthias Staubach, Michael Staubach, Monika Grosch, Regine