Initative of the month - 2010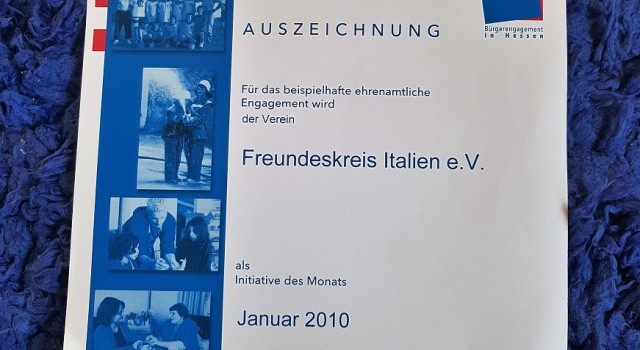 For the exemplary voluntary commitment the association Freundeskreis Italien e.V. will be awarded as initiative of the month.
As initiative of the month of January, the "Freundeskreis Italien - Verein zur Förderung der Gemeindepartnerschaft Hofbieber - Unione Montana Acquacheta." was honoured by the Hessian state government as an exemplary initiative within the framework of the volunteer campaign "Gemeinsam Aktiv - Bürgerengagement in Hessen" ("Active together - civic engagement in Hessen").
In January 2010, the 'Freundeskreis Italien' was chosen because this voluntary initiative is particularly committed to maintaining the partnership between Hessen and the Italian region of Emilia Romagna at the municipal level. The association, founded in 2008, has also set itself the task of maintaining and promoting the partnership between the municipality of Hofbieber and the Italian association of municipalities Unione Montana Acquacheta. Particularly noteworthy is the "50 plus" exchange programme, in which a total of nine citizens from both partner municipalities have so far completed a voluntary service in an association or social institution over a period of two to three weeks. In addition, the association has set up Italian language courses which are now also offered in cooperation with the Adult Education Centre Fulda and which are attracting a steadily growing number of participants.
In order to attract broad sections of the population to the partnership, a partnership festival is organised every year and is hosted by the partner municipalities in turn. The first festival took place in March 2009 in Hofbieber. Sixty Italian guests cooked typical local specialities and served them to the 250 citizens of Hofbieber.